THE LIST

(2016)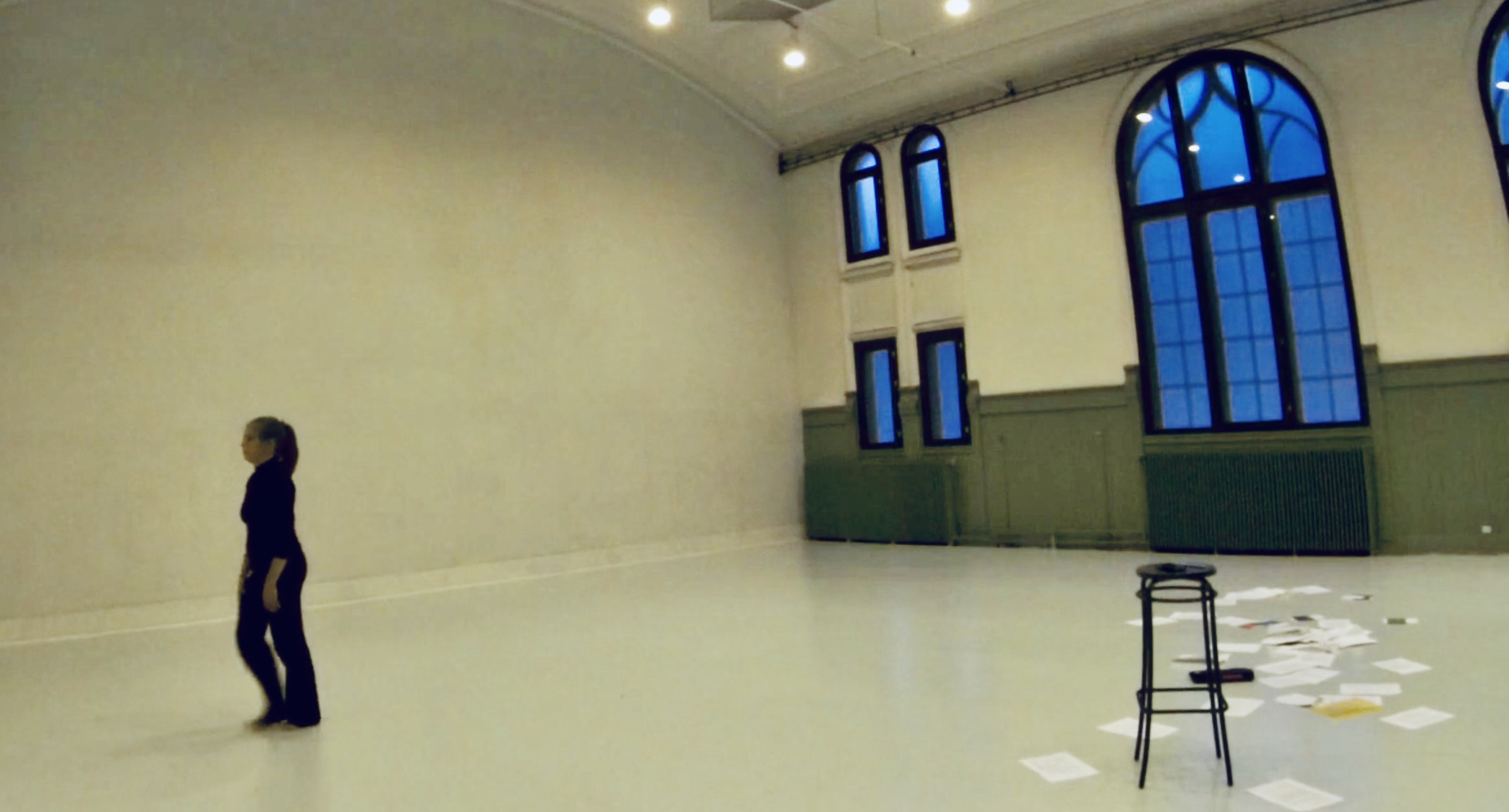 As a further development of the INTERIMP project, I created a solo work, THE LIST. I wanted to make the written material into a 30min danced solo. THE LIST was shown twice at Scenehuset, Oslo.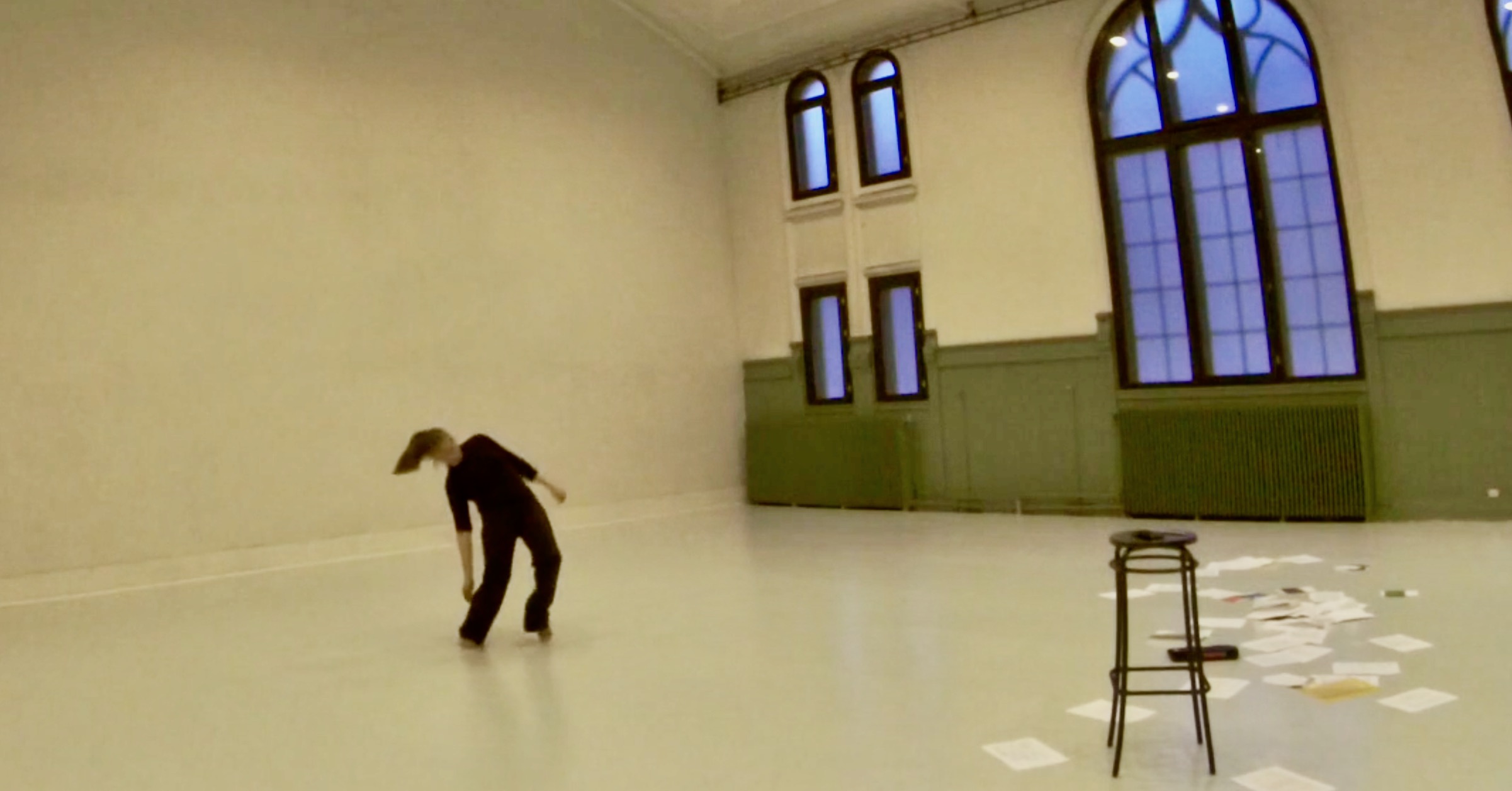 My questions were
Can I be a dancer and a musician at the same time?
Can I relate to the terms I set up both physically, musically and emotionally?
Can I be Intermedial?
How can I make art out of a research project?
This text is based on my first attempt.
It describes the structure and what I remembered and wrote down afterwards.
Now you can imagine yourself what you want it to look like. Maybe you can see a solo played out when you hear the text? Maybe you can close your eyes and imagine?
THE LIST

The room is filled with all my colourful notebooks, books and papers.
I have placed them in the middle of the open white room with the beautiful floor that you want to be barefoot on. Right in the hotspot!
I haven't looked at the notes for a long time, it´s just a reminder of the thinking and the writing in the past. I do not like many of the books I have. I did not even bother to read them all, even though I should have. I cheated, I said I read them all.
On some single pieces of papers there are easy sentences like:
"we are all moving air"
"isolated, grouped, controlled, not controlled"
"should I, when should I, how should I, how long should I, how loud should I"
I think I need everything there just to remind myself, focus myself and concentrate so I can clear my mind again.
I sit down on the bar stool that is placed next to the pile of papers.
I pick up my Dictaphone and play out loud the track I have recorded, and I hear my own voice reading this list in Norwegian, my base, what is going to be the foundation of the solo.
Altruism
Responsibility
Distance
Movement
I am looking straight into your eyes, staring at you!
Dialog
Documentation
Egoism
Aesthetics
Energy
Experience
Flow
Focus
Connections
Transportations
Research
Interpretation
Expectation
Freedom
Gestures
Hierarchy
Politeness
Interference
Inside
Input
Inspiration
Instrument
Intention
Communication
Contact
Control
Body
Light
Sound
Listening
Meaning
Volume
Courage
Resistance
Motor
Music
Land on zero, breath out and do nothing for a while!
Experience
Placement
Reactivity
Rules
Props
Repeating Space
Repeating
Collaboration
Sensing
Language
Voice
Timing
Audience
Transformation
Patience
Development of material
Outside
Choice
Habits
Duration
Wild Card
The movements have already begun. Starting slow on the floor rising and sinking pausing in strange places with an abrupt flow. Tempo is shifting.
I keep the words within me, inside me, but I don't know how, what, when or if it shows at all on the outside.
Moving through space.
I stay low without standing up for ten minutes. I start to roll and speak and bade in the papers, sounds and words are coming out…integrated voice and body for a moment and it feels good.
Next part.
Next to the wall standing up. I wish I could have used my voice in a more abstract singing way. My body is relating to the roof, upward, the sky.
….and here I go down to the floor again glued to the ground.
I think I look lazy and slow now…solo is complicated.
I aim for being spontaneous and specific at the same time
Look like I found something on the floor.
Could have should have developed this further.
Rhythmically breathing, moving arms repetitions.
Dizzy and buzzy in the corner unsettled listening.
Looking …walking over to play out my list again…do it all over again. Movements follow it…. looking at myself from a distance, choosing several far away spaces… using the sounds as gestures.
Repeating fragments….
Pauses…
Am I more interesting when there is sound together with my dancing?
Unpleasant silences
Clarity towards the end…
The right moment to feel the end
Outbreath
The End.
– Siri Jøntvedt, Oslo, July 2016